Characters I Love to Love
Last month at the RT Booklovers Convention, I had a fangirl moment with Laura Kinsale. When I realized that the group of people I was having dinner with (Kansas City barbecue) included this groundbreaking author, I lost all powers of speech. I never thought I'd be one of "those" people. Always believed I'd be cool and calm if I was ever lucky enough to meet one of my idols. After all, I've met famous, NYT authors and had no problem conversing with them: My marbles didn't mysteriously disappear from my head. My vocal cords didn't abandon me. They were just people, right?
But back to Laura Kinsale. Fast forward ten minutes, give or take. When I finally regained the ability to think and vocalize, I apologized and proceeded to gush all over her about how much I enjoyed her work. She was sweet and down-to-earth, everything you want your idols to be.
What does this have to do with characters? Well, Kinsale's characters broke the "rules" for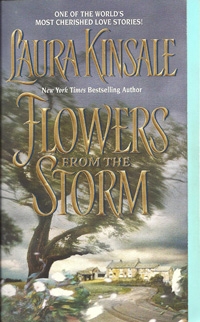 romance and in doing so inked themselves permanently in my memory. The most indelible? Christian in Flowers from the Storm, an intellectually gifted man who suffers a stroke. He is sent to an asylum. Struggling with lack of speech and compromised motor skills, his terror and frustration are palpable. Only Maddy sees the man fighting to express himself, the man beyond his condition. This was the first romance I read with a hero who wasn't physically perfect. Before Christian, they were handsome, strong, intelligent, healthy, and wealthy (or on their way to wealthy). That a romance hero would struggle with something as substantial as a trauma to the brain was unheard of.
Five years later I agonized over the hero and heroine in Penelope Williamson's The Outsider—Rachel Yoder, a Plain woman, and Johnny Cain, a killer. I sobbed as these two disparate characters fell in love despite the overwhelming differences between them.
These are both historical romances, but you can bet there are contemporary characters who I will never forget, and not just because I've reread their stories over and over and over again.
Take Catherine Anderson's Phantom Waltz. Yes, we love our heroes and want them to find true love. But in this story it was Bethany Coulter, paralyzed from a barrel racing accident, who captured my heart and had me pulling for her until the end.
Then there's Alex Kennedy from Megan Hart's books Tempted and Naked. Yep, this man is so sexy, so heart-rending, that one book couldn't contain his story. Hart is a master at writing everyday characters with hidden depths. And while Alex is anything but ordinary, the women who love him, and through whose eyes the stories are told, could be any one of us—women just trying to get through each and every day.
Josh Lanyon's Adrien English stars in five mysteries. (And I love this
man so much, I'm hoping for more!) Adrien is a quirky bookstore owner and writer with a heart defect, an overprotective family, and a talent for finding dead bodies. While not romances, these stories do have a romantic element thanks to Adrien's on-and-off-again relationship with in-the-closet cop Jake Riordan.
So there you have it. Characters who have stuck with me over the years. Stories I read again and again. Now, turnabout's fair play. Tell me about the character you can't forget … because I'm always looking for another love.
This post first appeared at The Contemporary Romance Café.